Together, we see a world where people unite and take action to create lasting change – across the globe, in our communities, and
in ourselves. 
Learn More
A melting pot of wisdom, experience, youthful energy and ambition – all aiming to Make a Difference in Our World.
The Gately has 50 members, some of whom have been members for over 40 years, and some for less than 1 year, with ages spanning six decades. With a variety of backgrounds, the Club is enriched by a wide range of knowledge, expertise and capabilities. Having been established nearly 50 years ago, its character is built on many layers of annual efforts and achievements.
The functioning of the Club is influenced by the passion of its members, the guidance of Rotary International and the needs of the society that we live in. Rotary International is close to succeeding in eliminating Polio around the world. Our Club raises funding to support the Global Polio project, as well as our own major projects are aimed at raising the standards of vital Early Childhood Development, enabling young people to Find Their Voices as Leaders, supporting the establishment of Safety Nets for Abused and Vulnerable Women and Children and the warehousing and distribution of medical equipment, groceries and various materials to people in need. Each year, the Club also donates funds to organisations which are serving needy people in society.
Funding for these projects is sourced from our highly successful wine auction and other wine-related functions, ever more popular polio fun-run, the East London's bi-annual harbour festival, growth on a Gately Trust fund, various bequests and funds shared by the Rotary International Foundation.
The annual Wine Auction of the Gately Rotary Club is a prestige event on the Club's fundraising calendar and is very well supported by numerous wine estates in the Western Cape. The auction is held under the leadership of well-known wine connoisseur, Michael Fridjhon, who acts as the Auctioneer, whilst an enthusiastic East London community participate eagerly in the auction. It is a tribute to everyone involved that such a large part of our industry and local community has united around this exciting endeavour. All funds raised are held in Trust, whilst a Board of Trustees act as custodians of these funds and oversee the distribution thereof to worthy recipients in line with the Motto of Service Above Self.
All of the considerable efforts of members are done voluntarily, who are often supported, also voluntarily, by the spouses and partners of members.
Our Motto
Service Above Self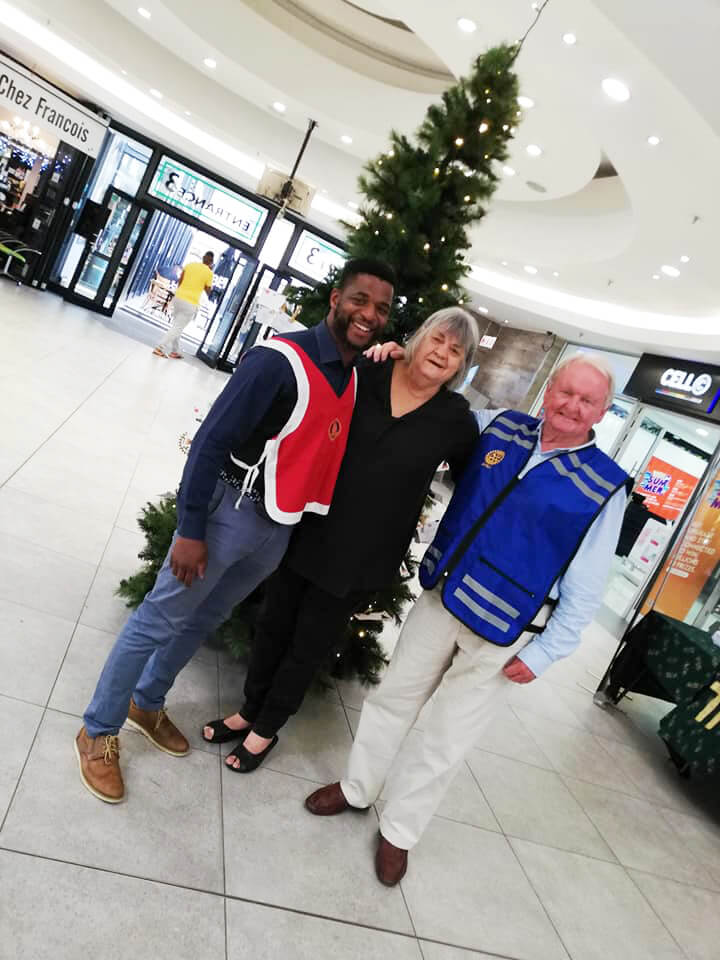 Rotary is a global network of 1.2 million neighbours, friends, leaders, and problem-solvers who come together to make positive, lasting change in communities at home and abroad.
Solving real problems takes real commitment and vision. For more than 110 years, Rotary members have used their passion, energy, and intelligence to take action on sustainable projects. From literacy and peace to water and health, we are always working to better our world, and we stay committed to the end.
We work differently
Influenced by the passion of our voluntary members and their partners.
We see differently
Our multidisciplinary perspective helps us see challenges in unique ways.

We think differently
We apply leadership and expertise to social issues — and find unique solutions.

We act responsibly
Our passion and perseverance create lasting change.

We make a difference at home and around the world
Our members can be found in your community and across the globe.

GATELY CLUB OF ROTARY BOARD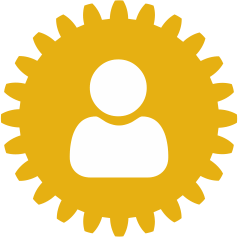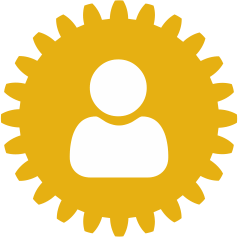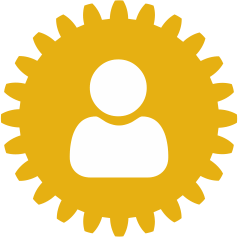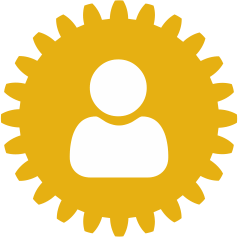 COMMITTEE MEMBERS   
Loren Smith (Projects) | Gavin Ferreira (Quantum & Foundation) | Liza Wright (PR & Social Media) | 
Colin Davies (New Generation & Youth) | Roger Williams (Past President, Admin & Speakers)
Our Vision
To be the trusted partner for making a difference in our corner of the Rotary world.
The Rotary Club of Gately was established in 1970 when Past District Governor Arthur Markson was commissioned to promote Rotary International policy by forming the third Rotary club in East London.
The area of the proposed rotary club was defined to the west of Oxford Street, including the Gately Industrial Township, and incidentally, Gately House itself, which was the former home of John Gately, 'the father of East London". The name Gately thus has significant historical connotations, and the new club was appropriately called the Rotary Club of Gately.
The Charter Dinner was held at the Hotel Kennaway on 26th November 1970, and District Governor Tim Murray presented the Club Charter and inducted Dick MacLaren as the First President of the Rotary Club of Gately.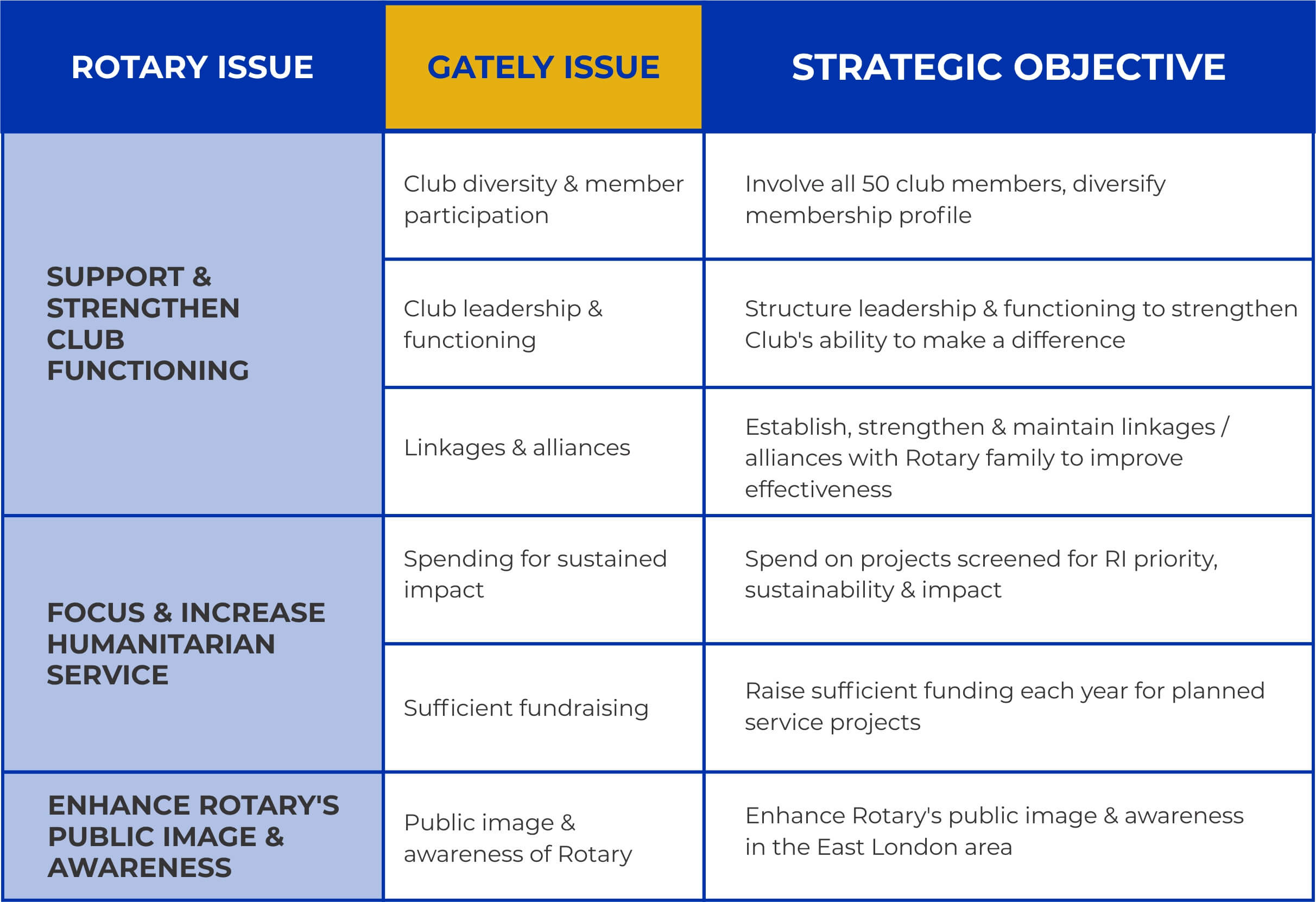 The Rotary Foundation transforms your gifts into service projects that change lives both close to home and around the world. During the past 100 years, the Foundation has spent $3 billion on life-changing, sustainable projects. With your help, we can make lives better in your community and around the world. 
Why should I donate to The Rotary Foundation?
Your donation makes a difference to those who need our help most. More than 90 percent of donations go directly to supporting our service projects around the world.
How does The Rotary Foundation use donations?
Our 35,000 clubs carry out sustainable service projects that support our six causes. With donations like yours, we've wiped out 99.9 percent of all polio cases. Your donation also trains future peacemakers, supports clean water, and strengthens local economies.
What impact can one donation have?
It can save a life. A child can be protected from polio with as little as 60 cents. Our partners make your donation go even further. For every $1 Rotary commits to polio eradication, the Bill & Melinda Gates Foundation has committed $2.
Rotary is dedicated to six areas of focus to build international relationships, improve lives, and create a better world to support our peace efforts and end polio forever.
Promoting Peace
Conflict and violence displace millions of people each year. Half of those killed in conflict are children, and 90 percent are civilians. We refuse to accept conflict as a way of life. Rotary projects provide training that fosters understanding and provides communities with the skills to resolve conflicts.
Fighting disease
Our health is everything. Yet 400 million people in the world can't afford or don't have access to basic health care. We believe good health care is everyone's right. Disease results in misery, pain, and poverty for millions of people worldwide. That's why treating and preventing disease is so important to us.
Providing Clean Water and Sanitation
Clean water and sanitation is a human right. When people, especially children, have access to clean water, sanitation, and hygiene, they lead healthier and more successful lives. We don't just build wells and walk away. Rotary members integrate water, sanitation, and hygiene into education projects.
Saving Mothers and Children
Rotary makes high-quality health care available to vulnerable mothers and children so they can live longer and grow stronger. We expand access to quality care, so mothers and children everywhere can have the same opportunities for a healthy future.
Supporting Education
More than 775 million people over the age of 15 are illiterate. That's 17 percent of the world's adult population. Our goal is to strengthen the capacity of communities to support basic education and literacy, reduce gender disparity in education, and increase adult literacy. We support education for all children and literacy for children and adults.
Growing Local Economies
Nearly 800 million people live on less than $1.90 a day. Rotary members are passionate about providing sustainable solutions to poverty. Our members work to strengthen local entrepreneurs and community leaders, particularly women, in impoverished communities.